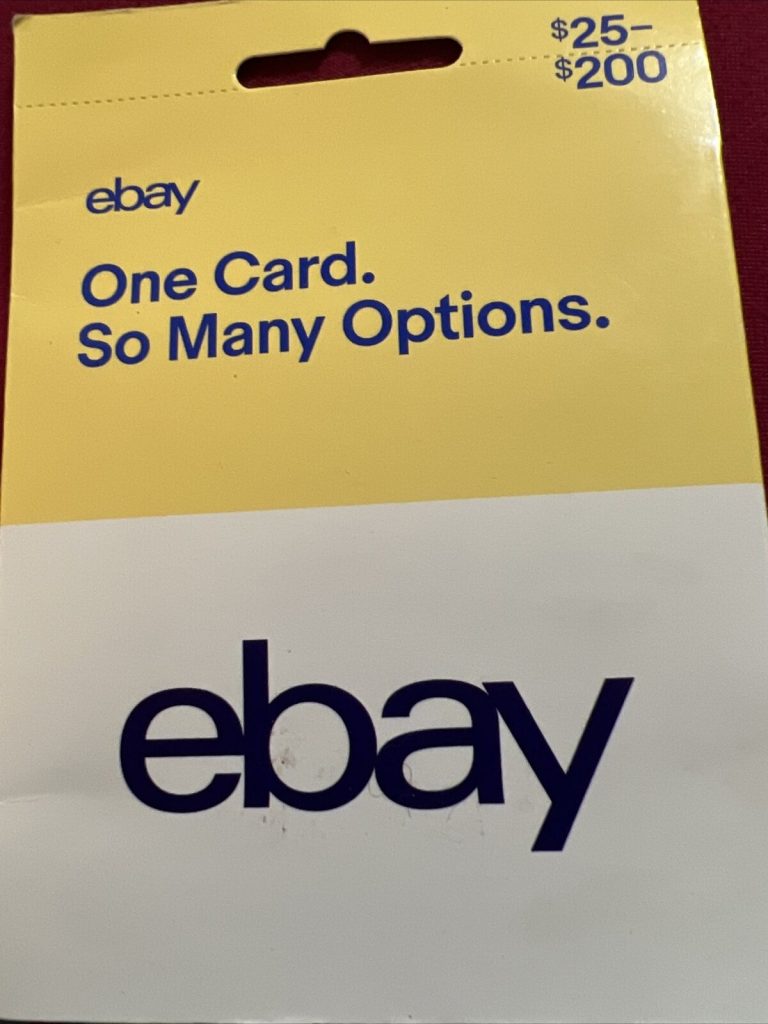 Are you looking for a reliable site or platform to sell eBay gift cards in Nigeria ?
This post will introduce you to the best and most reliable site or platform to sell, trade and redeem your eBay gift card for Naira in Nigeria.
First let's talk about what an eBay gift card is.
You might be new to gift card and might be wondering what eBay gift card is
What is eBay Gift Card
eBay Gift is a prepaid card that can be used as a means of payment for items and products on the eBay website
Why Use An eBay Gift Card
There are numerous reason to use an eBay gift card, some of the reasons for using eBay gift cards are below:
Savings : eBay gift cards could help in savings, so if you're an impulse buyer who just loves shopping endlessly, then getting an eBay gift card could be the right decision you'll make as you could just get a certain denomination of eBay gift card and use it for shopping.
Flexibility : eBay Gift cards give you flexibility, eBay is one of the largest e-commerce in the world where you can buy lots of items. Your eBay Gift Cards can be used redeemed any items available at the store.
Security : if you're scared of using your atm cards online for shopping, then getting eBay gift card could just be the best option to take.
No expiration: eBay Gift Card doesn't expire and there are no fees, the recipient can use the balance on the gift card anytime.
Convenience : eBay Gift Cards can be bought in stores or online, making it easy to be sent as a gift as they can be sent electronically or physically and also be redeemed almost instantly.
Can be exchanged for cash : Of course if you no longer need your eBay gift card, you can exchange it for cash in Nigeria on Cardyork. Cardyork is the leading platform to exchange gift cards to Naira and get paid directly into your Bank account
Where To Buy An eBay Gift Card
There are numerous places you can buy an eBay gift card from, eBay do recommends:
You can also get an eBay cards on any of these stores :
Where To Sell eBay Gift Cards In Nigeria.
Are you in possession of an eBay gift card you are not using, and thinking of where to sell them for cash?
There are however many site and platform you could sell your gift card here in Nigeria for cash but you have to be careful so you don't fall prey to rippers
Cardyork.com is the best site to sell eBay gift cards in Nigeria now for instant cash.
Cardyork.com is created with love in mind to cater for all your gift card related transactions and has thus served many Nigerians by helping to convert their gift cards to cash.
If you're looking for the right platform in Nigeria to sell eBay gift cards in Nigeria then cardyork.com is the perfect platform to swap eBay gift cards for cash in Nigeria and get paid directly into your Nigerian bank account.
If you're among those asking where can I sell my eBay gift card in Nigeria for instant.
Cardyork is the perfect platform to sell eBay gift card to Naira in Nigeria online.
Why you should sell your eBay Gift Cards on Cardyork
When it comes to gift card trading cardyork is at the top of it all, offering you the best possible deals. Cardyork ticks all the boxes in terms of the features of a good trading platform. What sets cardyork apart and make it outstanding are :
Secured Transaction – You have to feel secure when trading or selling a giftcard on any platform. Cardyork makes you feel safe. Scared of making transactions online. No need to worry. Cardyork got you covered as trading is highly secured and safe.
Guaranteed Payment: ever worry about payment issues. With cardyork payment is guaranteed and right on time.
Active Customer Care services: Cardyork has a formidable team of customer service agents always on standby to attend to you at any time. In need of support, these highly professional teams are there to cater for all your needs.
Best Rate : on Cardyork you're offered good rates for your gift cards as opposed to other Gift Cards platforms. You'll get the best rate for your eBay Gift Card when you sell them on cardyork
Transaction speed: This one feature you should watch out for when using any Gift Card platform. On cardyork. Trade is done as fast as possible. Most gift card deals are completed in 5 – 10 minutes, only specific cards take longer. This is a distinctive feature that set cardyork apart
Easier Transaction : Gift Card trading on cardyork is easy. Cardyork has a neat and easy interface, Even if you're a newbie, it's easy to navigate the platform and trade your eBay Gift Card card with ease
How to Sell eBay Gift card in Nigeria 
Thankfully, cardyork allows you to sell eBay gift card for Naira.
Cardyork is the best online gift card exchange platform that offers the best rate for gift cards.
To sell your eBay gift card in Nigeria
Create an account
Log into your account and access your dashboard
Start trading
Or you call/What'sApp: 0802 684 6656
Other Gift card to sell on Cardyork
Aside from eBay there are numerous gift card you can sell, redeem or trade on cardyork.
Some of the gift card you can trade in cardyork for naira includes :
Nordstrom
Amex
iTunes
Google play.
Sephora
Visa
Vanilla
Macy
Offgamer
GameStop
How to protect your eBay Gift card from scammers
1. Treat your eBay Gift card like cash, make sure you keep It safe.
2. Never give or share your eBay Gift Card code to just anyone.
3. Only redeem your eBay gift card on CardYork or other legit sites or platforms.
If you're selling your eBay Gift Card for Cash ensure to sell on a reputable platform like Cardyork
Read Also: Best platform to sell your steam gift card in Nigeria
Frequently Asked Questions About eBay Gift Card
What if I mistakenly scratched off my eBay Gift Card card code
Contact the eBay support team with:
A picture of the purchase receipt of the gift card
Your name , email address, and phone number
A picture of the back of the card
Your eBay account name
The gift card redemption code, if eligible
Does eBay Gift Card expires
eBay Gift Card do not have expiration date, however it's wise to always check the terms and services of the card
How soon do I get payment for my eBay gift card ?
eBay gift card is a highly sought after gift card you can sell on Cardyork for cash. Thus you'll receive payment for your eBay gift card as soon as the transaction is completed.
How can I sell my eBay gift card online in Nigeria
Selling your eBay gift card in Nigeria on CardYork is easy. To sell your eBay gift card, visit www.cardyork.com.
Or
Call/ WhatsApp 0802 684 6656
Summary 
eBay gift card is one card you can use to get almost everything you need on the eBay official website.
However if you're no longer in need of the card. You don't have to let it waste away. If you're in Nigeria you can easily convert your eBay gift to cash in cardyork and get paid directly into your Nigerian account.
Related Posts: